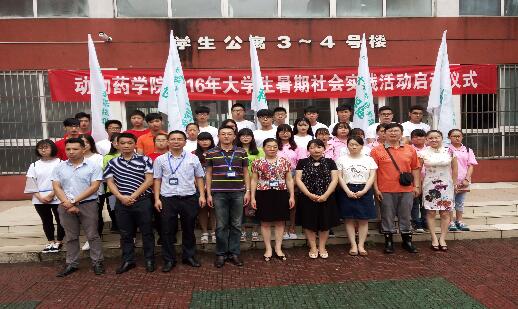 School Introduction

The School of Animal Pharmaceutical is one of the first secondary schools in our college, which was founded in1988, and has developed rapidly for more than 20 years. Now it has a number of 1500 students, and 5 majors, which are Veterinary Medicine Production and Marketing, Traditional Chinese Medicine Technology, Biological Pharmaceutical Technology, Pharmaceutical Quality Testing and Animal Medicine.

Major Introduction
1. Veterinary Medicine Production and Marketing
This major brings up the high quality of skills and special talents, occupation moral, and the sustainable development of learning. Plus the ability of graduates to adapt in veterinary drug production, in management, supervision and in the management of enterprises and institutions, engaged in the production of veterinary drugs field workshop head, leader, and veterinary medicine in the field of marketing sales, business management and other work.
2. Traditional Chinese Pharmaceutical Technology
This training is for the first-line practical professionals of Chinese medicine providing the necessary theories of traditional Chinese medicine of the knowledge and strong practical ability needed in the production, construction, and management for the twenty-first Century of China's socialist modernization requirements.
3. Bio Pharmaceutical Technology
The aim is to produce professionals, trained in the highly skilled areas of the production, testing, and quality control, product development, drug inspection and quality management work. With intellectual, physical and aesthetic education, as well as primary career development oriented to biological pharmaceutical production and development, pharmaceutical analysis and inspection, pharmaceutical production and quality control, drug management for commercial enterprises and other schools.
4. Pharmaceutical Quality Testing
This major train high skill talents with morality, wisdom, physical and aesthetic education, career development base, engaged in drug inspection, quality management and product development work in the production, inspection, service line, facing the pharmaceutical production, drug testing, drug management and other enterprises and schools.
5. Animal Medicine
This major produces applied talents in animal drug marketing and in technical services, such as animal disease diagnosis and treatment and animal experiments occupation, with the necessary theoretical knowledge and practical skills of higher technology for animal drugs factory, plant feed additives, veterinary enterprises, animal husbandry and veterinary station, as well as livestock and poultry breeding company, aquatic animal farms, pet hospital, Center for experimental animals, drug research and development schools and other enterprises and schools.