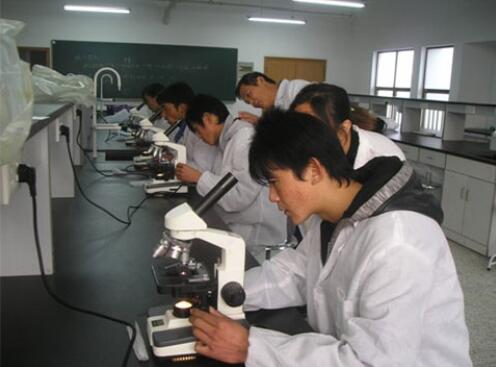 School of Animal Medical is one of the main secondary schools of Jiangsu Agri-animal Husbandry Vocational College. There are 101 teaching and administrative staffs, consisting of 17 Professors (researcher), 28 associate professors, 22 doctors and 67 masters. One of them to enjoy the governmental special allowance awarded by the State Council, three of them to be rewarded with a grant of 333 Project, and six of them as backbone teacher to be funded by Project Blue of Jiangsu province.
School of Animal Medical now sets up 3 majors, including animal medicine, animal epidemic prevention and quarantine, and animal medical inspection technology.
School of Animal Medical has 26 specialized laboratories, 1 teaching animal hospital, 1 Animal Epidemiological Studies Unit of Jiangsu Province and 1 national animal epidemic prevention and quarantine training base. Teaching equipment total assets is more than 20 million Yuan, which can fully meet the needs of teaching practice. At the same time, more than 50 long-term off-campus bases for interning and training have provided students with platform to work and study combination, and Dinggang provides internships. The school emphasizes the students' comprehensive quality. Winnie's awards in sporting and cultural activities, graduate design thesis and skills contest. It is worth mentioning that the students have received the first prize in the national vocational skills contest in two consecutive years. The graduates are well received by employers because of their solid professional knowledge and good practical abilities. The employment rate of graduates reaches 100%.